San Francisco based ClinPro Trials (CPT) launches TrialReady™ which delivers PreClinical expertise to enable sponsors to move rapidly from the Concept stage into the Clinic
CPT has raised the
bar for how PreClinical and Clinical CROs services are being offered in the
healthcare industry and sponsor companies are taking notice. TrialReady™ is the type of innovation that is
common for the seasoned team at the firm.  CPT is the First CRO:


             1 –  Whose focus is on Quality in all of their CRO services
             2 –  To offer a Digital Patient Recruitment Platform (CPT ArgoPort™) which enables them to work with
                      sponsors to meet
                      their enrolment targets for clinical trials
             3 –  To offer SiteReady™; a turn key operation which manages all aspects of Clinical Site Operations from Site
                      Identification to Site Close out
             4 –  With a dedicated suite of services called TrialReady™ which provides PreClinical    ex-pertise to empower sponsor
                     firms to move rapidly from the Concept stage into the clinic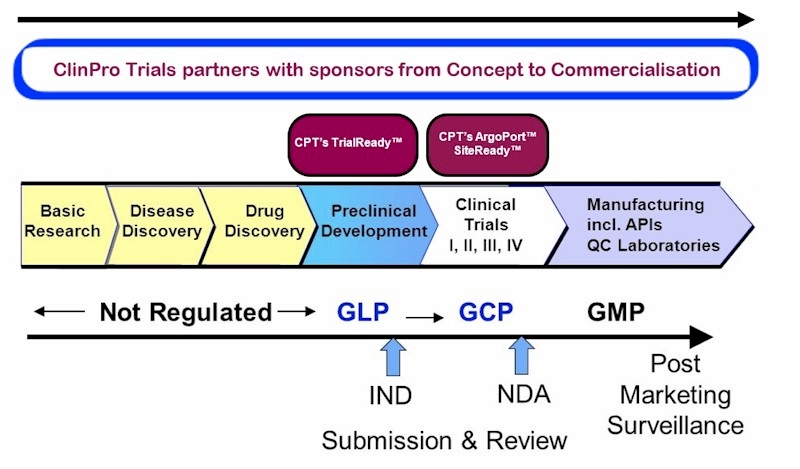 TrialReady™ enables CPT to partner with sponsor firms to progress laboratory research discoveries to early clinical proof of concept and effectively translating preclinical molecules to promising clinical therapies. CPT has successfully
handled IND Enabling Studies to meet FDA requirements. CPT's core competency is Quality and CRO firmly   believes that quality must be built into PreClinical and Clinical Studies in order for them to meet the rigorous inspection scrutiny of any regulatory agency. 
From Discovery to Proof of Concept with CPT's TrialReady™
CPT's TrialReady™ suite of services accentuates the organisation's role as the premier provider of early drug development support to sponsors. The CRO recognises the major challenges faced by small sponsor firms, particularly start-up companies who seek to drive their novel therapeutics to demonstrate safety and preliminary clinical Proof of Concept (POC). Start-up firms need to leverage development of their products without the time and cost burdens associated with hiring staff and acquiring the appropriate subject matter     expertise. The CPT team acts as a surrogate drug development partner for start-up companies who are looking to benefit from a virtual model of operation and execution from the early stages of the drug candidate's discovery to demonstration of preliminary clinical POC.
CPT's TrialReady™ offers:
Preparation of Drug Development Plans (from Discovery to Phase II POC)

Design of the preclinical study

Preclinical vendor selection and management

Chemistry Manufacturing Controls (CMC) and Investigational product management expertise

Preparation of Investigator's Brochure

Regulatory agency submission


The role of Preclinical Studies to Enable a Drug Candidate Progress to Clinical Trial
Establish a proof of concept to provide a rationale for the target therapeutic indication
Obtain information required to guide dosing in human studies
Identify target organs/tissues or physiological processes which are likely to drive adverse events
Inform on safety parameters that should be monitored in the human trial
Establish a risk/benefit profile of the intended therapy
Human safety is the key concern in early phase trials, pivotal preclinical safety and        toxicology studies should comply with the FDA 21 CFR Part 58 and 21 CFR Part 11 Good Laboratory Practice (GLP) standards.